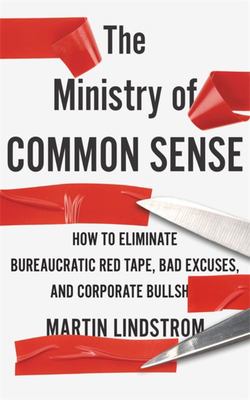 $29.99
AUD
Category: Business
How often in your life do you spend time following a rule or a procedure that makes no sense, offers little or no advantage, and slows you down in the process? In a world of work governed by a system of well-intentioned rules, that's something that happens all too often. In this book Martin Lindstrom - a global leader in branding and expert in organisational culture - takes you behind the scenes at companies which are paralyzed and demoralised by a breakdown in common sense. Lindstrom shares a five-step process for identifying and repairing these lapses, showing that restoring common sense always cuts costs, boosts engagement and increases customer retention. The stories in The Ministry of Common Sense are entertaining, troubling, eye-opening and recognisable to anyone who works in or leads an organisation of any size. It's easy to get blinded to problems right in front of you - but setting up your own Ministry of Common Sense will mean less time wasted on unnecessary things, less mistakes and misunderstandings, and a better way of working for all. ...Show more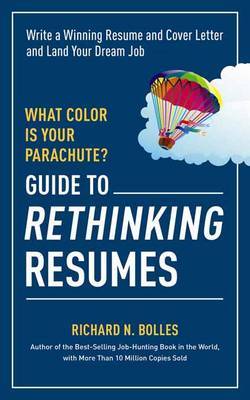 $22.99
AUD
Category: Business
The first resume book from the "What Color Is Your Parachute?" career guru Richard Bolles. Resumes get an average of 8 seconds of attention before going in the trash--or the shortlist. For the first time, the father of the modern career development field, Richard Bolles, presents a resume guide with ev erything job-hunters and career changers need to know about this all-powerful piece of paper. Merging decades of experience with the latest studies and job-market statistics, this all-new resume guide is packed with tips and tricks that will land interviews. With a Q&A section that answers job hunter's most frequently asked questions, this timely resource also features fresh insights on key words, scanning software, soft skills, social media, posting resumes, and tailoring them for specific companies and positions. This slim volume contains a huge amount of information distilled down to its very essence, for job-hunters who want to write a winning resume--line up those interviews. ...Show more
$16.99
AUD
Category: Business | Series: On Ser.
   Money makes the world go round, but does it make us happy? Money is one of the most fraught subjects; it raises powerful emotions in all of us. Too much money often corrupts people - too little can make people feel desperate. Growing up in rural Queensland, journalist Rick Morton has known poverty from the inside. Now he isn't poor, but his spending habits and attitude to money are still informed by growing up without it. In On Money, Morton examines the meaning of money and exposes the lie behind the government's mantra: have a go, get a go. ...Show more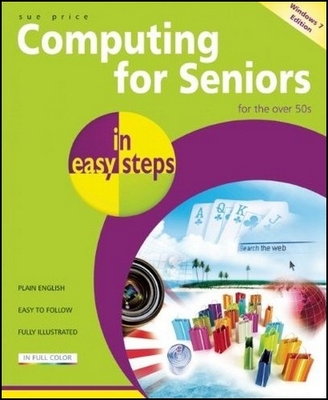 $24.95
AUD
Category: Business | Series: In Easy Steps
Computing for Seniors in Easy Steps has long helped seniors enjoy all the benefits of using a personal computer. Now, this best-selling title is better than ever, fully updated to cover all the new key features in Windows 7. With larger type for easy reading, this book presents no-nonsense, easy-to-unde rstand tutorials on dozens of computer topics. In easy steps, computer users learn the basics of PC components, terminology, and special features. The range of topics covered here includes: playing and storing music on your PC; creating your own letterhead; surfing the Web; buying and selling on eBay; sending and receiving email; playing games; installing antivirus software; shopping safely on the Internet; ordering groceries online; money management; transferring images from your digital camera; and much more. ...Show more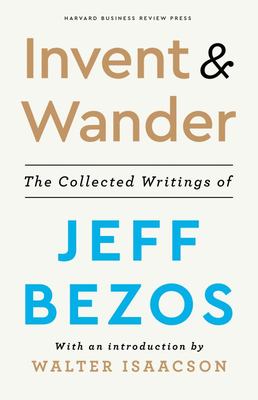 $49.99
AUD
Category: Business | Series: G - Reference,Information and Interdisciplinary Subjects Ser.
In Jeff Bezos's own words, the core principles and philosophy that have guided him in creating, building, and leading Amazon and Blue Origin. In this collection of Jeff Bezos's writings— unique and strikingly original annual shareholder letters, plus numerous speeches and interviews that provide insigh t into his background, his work, and the evolution of his ideas—'ll gain an insider's view of the why and how of his success. Spanning a range of topics across business and public policy, from innovation and customer obsession to climate change and outer space, this book provides a rare glimpse into how Bezos thinks about the world and where the future might take us. Written in a direct, down-to-earth style, Invent and Wander offers readers a master class in business values, strategy, and execution: The importance of a Day 1 mindset Why "it's all about the long term" What it really means to be customer obsessed How to start new businesses and create significant organic growth in an already successful company Why culture is an imperative How a willingness to fail is closely connected to innovation What the Covid-19 pandemic has taught us Each insight offers new ways of thinking through today's challenges— more importantly, tomorrow's— the never-ending urgency of striving ahead, never resting on one's laurels. Everyone from CEOs of the Fortune 100 to entrepreneurs just setting up shop to the millions who use Amazon's products and services in their homes or businesses will come to understand the principles that have driven the success of one of the most important innovators of our time. Invent and Wander: The Collected Writings of Jeff Bezos is co-published by PublicAffairs, an imprint of Perseus Books, and Harvard Business Review Press. ...Show more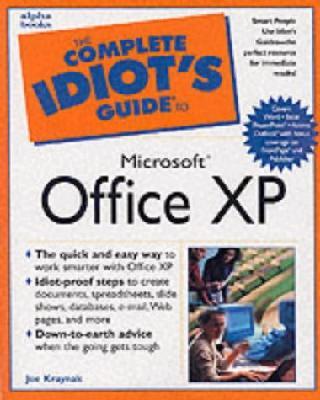 $39.95
AUD
Category: Business | Series: The complete idiot's guide
The Complete Idiots Guide(r) to Microsoft Office covers the new versions of the Microsoft Office programs: Word, Excel, PowerPoint, Access, Outlook, Publisher, and FrontPage. This book covers everything from word processing to spreadsheet number crunching, from database management to graphics, from slid e shows to appointment books. And thats not all-The Complete Idiots Guide(r) to Microsoft Office XP also shows how to make the programs work together to tackle even bigger tasks, manage email, and create and publish custom Web pages. ...Show more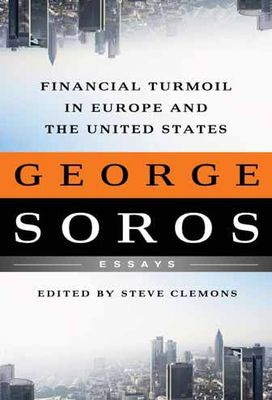 $19.95
AUD
Category: Business
In a natural follow-up to his international bestseller The Crash of 2008: The New Paradigm for Financial Markets, legendary financier and philanthropist George Soros reflects on world finance over the years of deepening crisis. People want to read Soros's opinions on financial matters, especially in thi s bleak economic time Bestselling author Soros has great track, especially on his finance books. New Paradigm for Financial Markets and The Crisis of Global Capitalism were both New York Times and Wall Street Journal bestsellers. Reflects Soros's deep disagreement with policies promoted by Obama advisor Larry Summers There will be a major media campaign and publicity for this book In this collection of his recent writings on the global financial situation, George Soros presents his views and analysis of key economic policy choices leading up to, during, and following the financial crisis of 2008-2009.Soros explores domestic and international policy choices like how to manage the (then) potential implosion of Fannie Mae & Freddie Mac, options for 'setting a floor' on the collapsing housing market; deploying measures to stem global contagion from the sub-prime crisis, alternative options on bailing out lesser developed countries and why this was vital, how to bring the credit default swap industry under control, the structural problems of European economic management, and more. ...Show more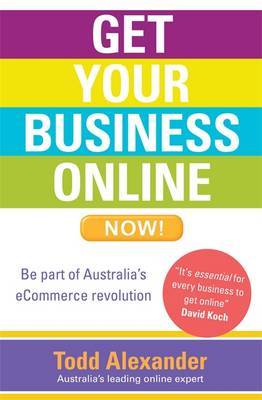 $24.99
AUD
Category: Business
One of the barriers to Australian businesses becoming e-commerce merchants is the lack of local, affordable knowledge in the area. The media and key influencers alike have been talking about the great potential of e-commerce in Australia, yet the industry lags behind other English-speaking markets.
$32.99
AUD
Category: Business
THE INSTANT #1 NATIONAL BESTSELLER From the #1New York Timesbestselling authors ofExtreme Ownership comes a new and revolutionary approach to help leaders recognize and attain the leadership balance crucial to victory. With their first book,Extreme Ownership (published in October 2015), Jocko Willink and Leif Babin set a new standard for leadership, challenging readers to become better leaders, better followers, and better people, in both their professional and personal lives. Now, in THE DICHOTOMY OF LEADERSHIP,Jocko and Leif dive even deeper into the unchartered and complex waters of a concept first introduced inExtreme Ownership: finding balance between the opposing forces that pull every leader in different directions. Here, Willink and Babin get granular into the nuances that every successful leader must navigate. Mastering the Dichotomy of Leadership requires understanding when to lead and when to follow; when to aggressively maneuver and when to pause and let things develop; when to detach and let the team run and when to dive into the details and micromanage. In addition, every leader must: · Take Extreme Ownership of everything that impacts their mission, yet utilize Decentralize Command by giving ownership to their team. · Care deeply about their people and their individual success and livelihoods, yet look out for the good of the overall team and above all accomplish the strategic mission. · Exhibit the most important quality in a leader--humility, but also be willing to speak up and push back against questionable decisions that could hurt the team and the mission. With examples from the authors' combat and training experiences in the SEAL teams, and then a demonstration of how each lesson applies to the business world, Willink and Babin clearly explain THE DICHOTOMY OF LEADERSHIP--skills that are mission-critical for any leader and any team to achieve their ultimate goal: VICTORY. ...Show more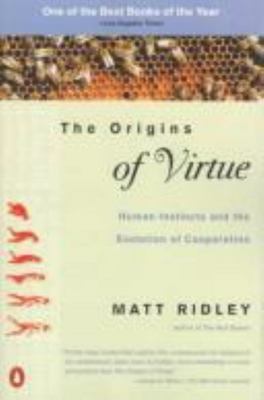 $38.50
AUD
Category: Business
If, as Darwin suggests, evolution relentlessly encourages the survival of the fittest, why are humans compelled to live in cooperative, complex societies? In this fascinating examination of the roots of human trust and virtue, a zoologist and former American editor of the Economist reveals the results o f recent studies that suggest that self-interest and mutual aid are not at all incompatible. In fact, he points out, our cooperative instincts may have evolved as part of mankind's natural selfish behavior--by exchanging favors we can benefit ourselves as well as others.Brilliantly orchestrating the newest findings of geneticists, psychologists, and anthropologists, The Origins of Virtue re-examines the everyday assumptions upon which we base our actions towards others, whether in our roles as parents, siblings, or trade partners. With the wit and brilliance of The Red Queen, his acclaimed study of human and animal sexuality, Matt Ridley shows us how breakthroughs in computer programming, microbiology, and economics have given us a new perspective on how and why we relate to each other. ...Show more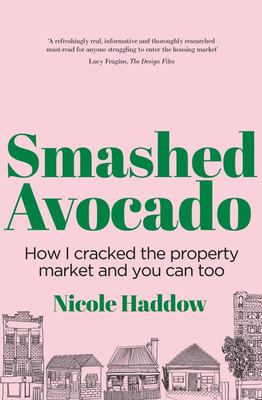 $29.99
AUD
Category: Business
'Buying a property isn't easy. It's not meant to be. It's one of the biggest financial decisions you'll make in your life. But it is worth it . . . it's hard, there will be shit bits, but it's not impossible.' At thirty, journalist Nicole Haddow had unstable income, no financial plan and only credit-ca rd debt to her name. But less than two years' later she was a home-owner. In Smashed Avocado, Nicole explains the steps she took to purchase her own home, alongside detailed case studies of other people who have found ways to enter the property market. She shares practical tips from financial planners, mortgage brokers, buyers' agents, real-estate agents and other property experts, and the acquired wisdom of a new generation of homeowners - down to the micro-details. She even thrashes it out with Bernard Salt, the man who said young people should stop splashing out on expensive brunches if they want to own their own home. Buying property remains a worthwhile investment, and young people are inventing innovative ways of achieving it, including rentvesting, flipping, Airbnb, tiny homes, buying regionally and more. Nicole's story is inspiring and optimistic - but, most importantly, it's realistic.The home ownership dream might look different today, but it's still possible to make it a reality. ...Show more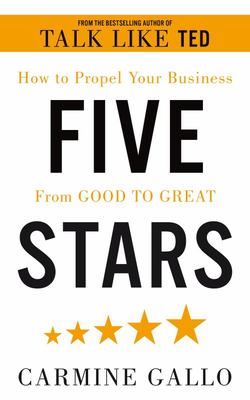 $29.99
AUD
Category: Business
Ideas Don't Sell Themselves. As the forces of globalization, automation, and artificial intelligence combine to disrupt every field, having a good idea isn't good enough. Communication is no longer a "soft" skill-it is the human edge that will make you unstoppable, irresistible, and irreplaceable, earni ng you that perfect rating, that fifth star. In Five Stars, communications guru Carmine Gallo breaks down Aristotle's ancient formula of persuasion to inspire contemporary audiences. As technology carries things across the globe in a moment, communication skills become more valuable-not less. When people express their ideas effectively, they're more likely to win dream jobs, sell products, build brands, and trigger movements. Gallo interviews neuroscientists, economists, and leaders to reveal how legendary CEOs captivate our imaginations and ignite our dreams. He will help you unlock your innate emotional and social skills, develop your public speaking talent to communicate your ideas with confidence, and build empathy with your listeners. This is your moment. Five Stars is your competitive advantage. Book jacket. ...Show more