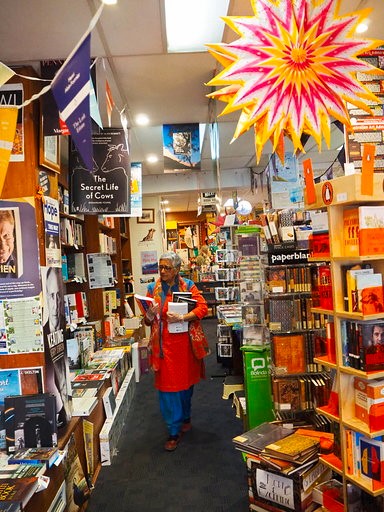 ELTHAMbookshop is a fiercely independent bookshop set in the heart of a book-loving and responsive community in the leafy Shire of Nillumbik in Melbourne, Australia. Meera Govil and her team of booksellers exist to amplify the power of storytelling with an eye catching, thought-provoking curation of books, games and puzzles. We want to ensure that literature remains a vibrant presence in our culture by supporting writers and independent publishers - building a community to broaden the audience for literature.
Awarded the Australian Bookseller of the Year Award, the bookshop has passionately organised three annual literary festivals for 10 years showcasing established and upcoming writers with books focussed on social justice, environment, conservation, human rights, indigenous culture, children's literature and debut writing. Weekly author events over 23 years have created a deep bond between readers, poets, novelists, essayists and illustrators.
Please visit us to share our love of the written word.
Customer Love

"There is nothing that can compare with the personal service and passion these wonderful people provide. The good people at Eltham Bookshop are immersed in books and you will find unusual and small publisher items here you can't find anywhere else. And their recommendations are excellent."

"One of the best bookstores in Victoria, if not Australia. Extremely well curated stock, helpful staff and one of the mainstays of the local literary and arts scene. Worth travelling some distance to check out." Luke Harris
"Independent eclectic book shop wide range and knowledgeable, friendly owners and staff. A Real bookshop."

"What a great bookshop on Main Road, Eltham. It's got a varied and eclectic mix of books on all topics under the sun. This is a bookstore that celebrates books and reading. It's got a nice cool vibe that encourage exploration. Everything about it shows that the people who run it are really into books. I could spend literally hours here. The staff are relaxed and friendly and very helpful. Not every suburb has a nice bookstore. I hope people recognise it for the treasure it is."
"Helpful staff, huge collection and great events with local fantastic authors."